The Impact Starts With One
It's amazing to see what can happen when just one person is empowered and equipped in their calling from the Lord. For example, Pastor José Herrera first became acquainted with Missionary
Ventures in Ecuador, when he was a missionary there from his home country of Colombia. He met Don Wolfram and learned about the Bible seminary classes they were teaching in the jungle.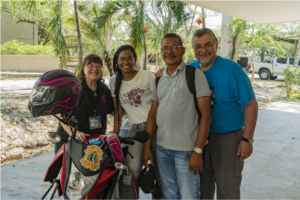 He was being recommended to be equipped with a motorcycle through MVI's partnership with Christian Motorcyclists Association. "I went out to meet him and see his circumstances and need and his ministry," Don remembers. "During the visit, I encouraged him to send possible ministry students to our Bible seminary. I could tell right away, that this was a special, earnest, humble, yet powerful, man. I put in an application for a bike."
Pastor José soon visited the Bible seminary, curious if the doctrine and program were worth recommending. He loved it and stayed all week. "He began to entrust us with lots of his key people, and even became a student himself," says Don. "Over the next 4-5 years he built an army of strong road warriors through the seminary and then we equipped the proven ones with motorcycles and extra discipleship, coaching, and organizing."
A multiplication ministry was happening.
Then José was called back to Colombia, but he stayed in touch with Don on occasion. One day he called with a request: could Don help start seminary and motorcycle programs in Colombia like the ones they had in Ecuador? 
Since then a new ministry has began to develop in Colombia. They have a God-given vision to raise up 500 leaders. "In just a few short years," says Don, "there is a vibrant church, a parsonage, the seminary, mentoring rooms, a motorcycle contingency, many outreaches, church roofs, the fish pond, crops, pigs, and a lot of hands-on disciples going out and practicing as they study and are mentored."
It all began with just one missionary pastor being empowered and equipped.