In Belize, 16-year-old John was already older than most of the other upcoming sophomores. But without a scholarship, he would have to wait even longer to continue school, if it was even possible at all.
MVI missionary Alfonso Ayala explains the situation. "Primary school is mandatory and free in Belize. But high school is not mandatory or free. Not all families can afford to send their children to school beyond elementary school."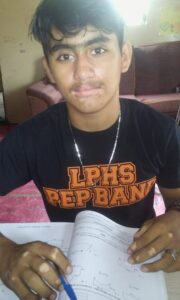 Alfonso knew John's story and the struggles his family experienced. They have four children and his father lost his job during the pandemic. "John's father has been doing small jobs here and there," Alfonso explains. "In the last two years, the mother has been the breadwinner of the family, selling fast food from their small house in town."
They couldn't afford school, but his parents still desperately wanted John to continue his education. They encouraged him to keep applying for scholarships and trusting God. For the final scholarship, John was close in the running, but Alfonso was heartbroken along with John and his family when someone else was selected.
Then a week later, a friend and university mathematics professor approached Alfonso. He was looking for someone to sponsor – someone who was good at math. John was a perfect choice.
"Our friend is sponsoring a scholarship for John's high school studies," says Alfonso, "and another person donated a laptop for him to do homework and school activities. A couple also contributed with school supplies, uniforms, and other related expenses. God is providing what is needed for John to go into his sophomore year. He is enjoying his school time, he is doing really well, he is making his parents proud and he is grateful to God for his love and opportunity to fulfill a dream."
This is just one example of what Missionary Ventures is doing around the world to impact nations for Christ. You can help us continue the work of empowering God's people by supporting our Core Mission.