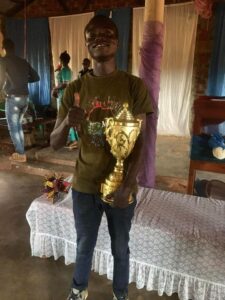 We all know the platform that sports athletes can have, and the same is true even for local soccer teams in rural Uganda. Missionaries Rex and Melinda Guynn wanted to bless their local soccer team, the Classic Eagles.
"Football (soccer) is a very valued sport in Uganda," Melinda explains. "About six months ago, we assisted our local football team with balls and uniforms." Last month they competed in the district tournament, and out of 42 teams, they won! But the best part was what happened next.
Before putting their golden cup trophy on display, they brought it to the church to have it blessed. They wanted their win to be a reflection of God's glory. Melinda reports that many of the youth are active in their church. "Our youth are extremely excited for this win," she says, "and it is so exciting to see their desire to serve the Lord and to have the cup blessed."
This is just one example of what Missionary Ventures is doing around the world to impact nations for Christ. You can help us continue the work of empowering God's people by supporting our Core Mission.